November 7, 2023
Masterful Tactics for Exhibition Organizers to Win Over and Keep Thriving Exhibitors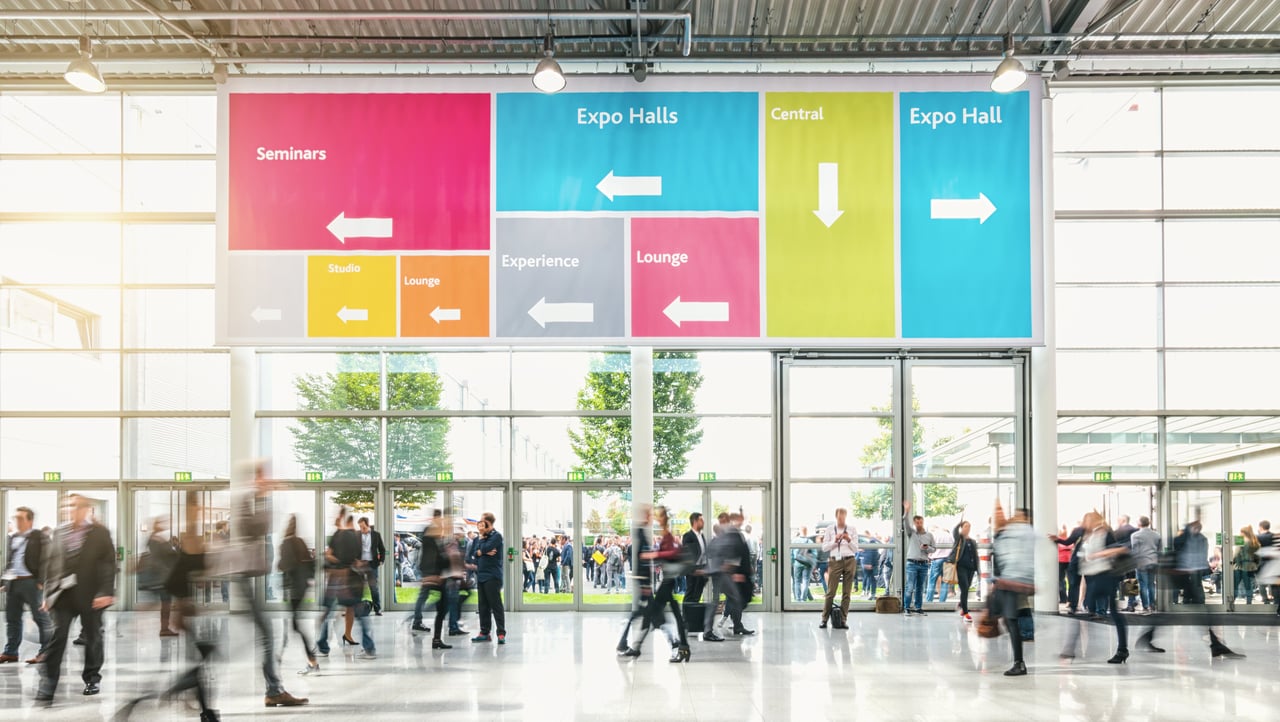 There is good news on the horizon for convention centers and trade show exhibition organizers. According to the latest projections from Globex 2023, the exhibition industry's annual report published by Stax, world's largest exhibitions markets are experiencing a robust recovery from the Covid pandemic and are poised to surpass their 2019 size by 7% by 2024.
Trade shows and conventions are pop-up marketplaces where businesses aim to present their products and services to relevant, qualified buyers. So, when it comes to attracting and retaining exhibitors for trade shows and conventions, there are two main things that event organizers need to demonstrate to prospective exhibitors.
First, exhibition organizers must show prospective exhibitors that they understand their business objectives and provide a highly sophisticated trade show platform that becomes a benchmark and innovation hub for their industry. To do so, exhibition organizers must be able to communicate the event's goals – in short, what type of visitors they are hoping to attract to the event, how many will attend and how they will attract them to register.
Secondly, they need to prove how their involvement in the event can help them achieve said business objectives and exposure. They need to market the exhibitors' brands and products to help open new markets and distribution channels. In this respect, exhibition organizers must provide relevant data, such as past attendance statistics, customer feedback and other relevant information to support their event objectives.
In this post, we explore the top challenges exhibition organizers face when attracting and retaining exhibitor bookings and how to overcome these challenges.
5 reasons exhibition organizers struggle to win over and keep exhibitors for tradeshows
With so many trade shows, conventions and other events happening worldwide, selling space and stand bookings for upcoming events is highly competitive. Here are the top challenges exhibition organizers face when attempting to attract and retain exhibitors for events:
1. Budget restrictions: The cost of travel has increased significantly, making budgets tight when it comes to exhibiting and sending staff to events. If a potential exhibitor doesn't have the budget, they will not book a stand or space. In this instance, exhibition organizers should encourage them to register as a visitor so that they can experience the show and consider allocating funds to exhibiting in the future.
2. Expected return on investment: Participating in conventions and tradeshows can be costly for prospective exhibitors. Therefore, potential exhibitors must be confident in the possible return on investment (ROI) – including leads generated, the deal size of the leads, converted sales and new distribution channels or partnerships – if they decide to book a stand.
3. Competition from other events: New and existing trade shows and other events make it challenging to attract new exhibitors and encourage return stand and space bookings each year. Events must continue to stay relevant for the audience they serve. Exhibition organizers must continuously review and improve their events to ensure they remain desirable for prospective exhibitors year after year. Provide networking on and off the show grounds to increase the value of the event.

4. Poor attendance rates and quality of visitors: If an event fails to attract enough of the right visitors/attendees, prospective exhibitors will not be encouraged to book or rebook. This is why exhibition organizers must track attendance, including detailed demographic data, to demonstrate the event's success and confirm the attendance of decision-makers.
5. Past event experience: Both exhibitors and visitors must trust that the venue and relevant suppliers contributing to the event can deliver an enjoyable experience. A poor event experience at a past event can discourage participation in future events. Exhibitions are an expensive pillar of a company's marketing strategy. Therefore, efficient and high-quality deliverables from the event are key.
Key masterful tactics for attracting and retaining exhibitors
To attract and retain exhibitors, exhibition organizers must engage exhibitors to understand their needs and continue to find ways to improve their event experience. Here are the top strategies exhibition organizers can implement to attract new and retain exhibitor bookings:
1. Understand your prospective exhibitors: If you want to attract and retain exhibitor bookings for stands and spaces at your events, your exhibitors must believe you understand their needs and you must demonstrate how your event aligns with their goals. Here are some steps you can take to better understand your prospective exhibitors:

a. Buyer personas: Create detailed buyer personas/profiles so you understand who your potential buyers are.
b. Survey exhibitors: Survey past and potential exhibitors to understand their current challenges/goals.

c. Market research: Research the industry your potential exhibitors are part of to understand the opportunities and threats impacting the market they are playing in.
d. Other external factors: Consider how other factors outside their industry also impact their businesses, I.e., economic conditions, trends, consumer expectations, political landscape, etc.
2. Capture key metrics and present meaningful data in your event prospectus: Every exhibition organizer will prepare sales tools such as an event prospectus to show potential exhibitors what they can expect at the event. It is essential to include the following key metrics in your overview to demonstrate the potential value of the exhibition and encourage exhibitors to book:
a. Past exhibitor feedback: Provide prospective exhibitors with feedback from past events so they can read what past attendees and exhibitors had to say about the event.
b. Attendance data: Provide a summary of how many visitors there were at past events and the types of visitors that attended, including key demographic details like where they came from, job titles, etc. The more global the footprint and decision-making power, the better.
c. Exhibitor data: Provide a summary of past exhibitors and key businesses already booked for the upcoming event. If prospective buyers see their competitors will be in attendance, it can encourage them to secure a booking. Make sure to also share success stories from past exhibitors who have successfully used the event as a growth accelerator.
3. Create innovative event experiences: Above and beyond all, the goal of any exhibition organizer planning an upcoming trade show or convention should be to deliver a memorable event experience that facilitates healthy business connections between visitors and exhibitors and generates potential leads and sales. To do this, exhibition organizers need to continuously push themselves to create modern and innovative event experiences that meet and exceed the expectations of all stakeholders. Here are some examples of ways that exhibition organizers can ensure successful event delivery:
a. Contemporary floor plans: The layout and design of event floor plans are pivotal in directing passing foot traffic and fostering meaningful business connections. A well-structured floor plan can enhance engagement and interaction among attendees, ultimately elevating the overall event experience and maximizing business opportunities.
b. Innovative networking opportunities: From welcome cocktail parties to hosted buyer programs, there are many ways to encourage networking above and beyond visitors stopping at stands and booths at tradeshows and events. Exhibition organizers must consider new and different ways to connect exhibitors and visitors, including:
i. Interactive Workshops and Masterclasses
ii. Industry-Specific Zones
iii. Artificial Intelligence (AI) -Powered Matchmaking and Networking
iv. Wellness and Mindfulness Zones
c. Utilize modern technologies: Technology plays a vital role in enhancing exhibition experiences. Here are some key examples of modern technologies used by forward-thinking event organizers:
i. Chatbots for Event Assistance
ii. Beacon Technology for Location-Based Offers
iii. Virtual Reality (VR) and Augmented Reality (AR) for Product Demonstrations
iv. Event Mobile Apps
v. Contemporary Attendee Tracking Tools, e.g., RFID, Facial Recognition etc.
vi. Gamification as an immersive experience where suitable
d. Secure attractive host venues: The host venue is a key factor in an exhibitor's decision-making process. The venue sets the tone for the event and the accessibility, location and proximity to key stakeholders in the industry play a crucial role in determining whether a potential exhibitor will consider booking a space. It's important that event organizers choose a centrally located venue that is easily accessible to attract exhibitors and visitors to the event. Sustainability is also an increasing topic. Convention centers and venues can lead the way in supporting exhibition organizers who want to create sustainable events.
Increase exhibitor bookings with an effective event management platform
Trade shows and conventions are vital events that help businesses showcase their offerings to potential buyers. However, exhibition organizers must continue to review and improve their strategies for attracting and retaining exhibitors to ensure the ongoing success of their events by investing their time in understanding the needs of prospective exhibitors, showcasing how their event can help them achieve their business goals and creating innovative event experiences to encourage them to book and rebook for future events.
Ready to accelerate your exhibitor bookings and improve event management processes?
Contact us today to discover how Momentus can drive profitability and streamline event operations for your venue and event.