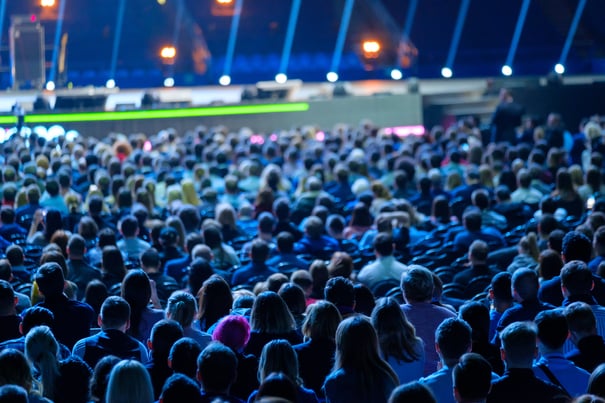 A Guide to Venue Management
Software
Everything you need to know about selecting the right venue and event management solution for your business.
Introduction
Venue and event professionals are frequently asked to do more with less. Budget is a major component, as 36.7% of event professionals report their budget decreased in 2023 when compared to 2019. Meanwhile, lead times for events are shrinking, while lead times with suppliers are longer amidst resource and staffing shortages.
In short: You need help. And venue management software is the answer.
"Anyone who's worked in the event space knows the infamous 'big book.' The binder to end all binders that's packed with notes on every single event-related movement or detail. And when you go home, the book comes with you. That worked in the past. With today's larger, more complex events, I can't imagine trying to get by with the book, no matter how big." — Michelle Whittle, Team Lead of Solutions & Engineering at Momentus
What is venue management software?
Event and venue management are fraught with time-consuming processes, whether you're using the classic "big book" system or a series of disjointed digital tools.
For organizations still using the infamous big book, your days are filled with last-minute booking requests or changes, playing phone tag with associates and vendors, hunting down paper trails and more.
Even in a best-case scenario, many organizations using digital processes wind up with a number of separate tools, each streamlining a particular piece of venue management. Separate tools can help reduce time spent on certain processes, but also bring a set of new challenges:
Repeat data across numerous platforms.
Time wasted on manual reentry.

More opportunities for error.

Incomplete insights and historical data.
Fortunately, you don't have to choose between either world. Learn how holistic venue management software helps bridge the gap between separate systems, manual processes and beyond.
Is venue management software necessary?
There was a time when venue management software wasn't a requirement. Today's event landscape is riddled with staffing shortages, tight budgets, heightened risk management and more.
Further compounding matters, manual processes are often inefficient and time consuming. Payment processing and account reconciliation can take four hours, while creating proposals and quotes can take more than an hour. The right venue management software can cut this time down to as low as 10 minutes.
Manual processes are not only time consuming, but also prevent you from having a consolidated view of all the information. Manual processes and disparate systems create an incomplete customer profile, resulting in decisions based on incomplete and unconnected information.
Learn additional ways in which venue management software can help you streamline your operations and do more with the resources you have.
Top trends in venue management
1. Driving Revenue and Increasing Venue Occupancy
Many venues are attempting to innovate by repurposing underused spaces and turning them into bookable rooms to maximize revenue, increase occupancy and provide unique experiences for patrons. This is especially true for unique venues like corporate businesses and higher educational facilities that now offer hybrid arrangements for their staff and customers and have vacant spaces that can be used for events.
2. Managing staff shortages
Staffing shortages continue as a trend in venue and event management, so venues and organizers must focus on attracting suitable candidates, streamlining onboarding processes and encouraging staff engagement. Tactics that are being used include offering desirable packages, flexible working arrangements and upskill/career advancement opportunities. In addition, many businesses are turning to technology to automate basic administrative duties, allowing existing staff to increase their productivity levels and dedicate more time towards delivering the best possible event experience for their customers.
3. Prioritizing incident and risk management at events
News headlines oftentimes force incident and risk management into the venue and event management spotlight. Proper incident and risk management and response are essential to limit potential damages, reduce legal jeopardy and provide a secure environment for all attendees at your event. Many venues are foregoing manual process and moving to digital technology for risk assessment and communication, tracking and response when incidents occur during an event.
4. Tracking sustainable venue and event practices
More venues and event organizers worldwide are taking responsibility for their environmental impact. To do so, many are implementing sustainable strategies, including reducing paper waste, eliminating single-use plastics, offering virtual/hybrid event options, promoting sustainable menu choices (i.e., meat-free or plant-based options), and proposing carbon offset packages to compensate for the emissions produced at events.
Challenges facing venue and event managers today
The venue and events management landscape has undergone numerous changes in recent years, especially in the wake of the coronavirus pandemic. In short: the challenges facing the events industry today are drastically different than those faced in the past.
"During the pandemic, so many people that worked at banquets for years, managed events, handled catering and so on left the industry. It was an exodus of historical knowledge that a lot of organizations are reeling from still, forcing event leaders to start from scratch in a sense." — Steve Mackenzie, Chief Innovation Officer at Momentus
Staffing isn't the only challenge plaguing the events world, either.
Events are growing in scope and complexity.

Manual processes are less effective than before.

coBudgets don't go as far as they used to.
Safety is an increasing concern.



These challenges don't have to slow you down. Learn how you can overcome Today's Venue and Event Management Challenges.
Overcoming common event planning and venue management mistakes
Even the most seasoned venue and event specialists make mistakes. With so many manual processes and increasingly complex events, remedying any avoidable mistake is a must.
Are you currently dealing with any of the following?
Space overbooking.

Lacking a backup plan.

Poor registration process.

Overspending or running out of funds.
Lacking insights/information.



Learn more how you can overcome Common Venue and Event Management Mistakes.
How to speed up online event booking
Event booking is critical to the success of any events department. Yet, managing event bookings can take 30 minutes or more when using inefficient software and processes.
The right software can help you reduce your event booking time from 30 minutes to five minutes, but even some changes to your internal workflows and communication practices can help you make online booking less painful for everyone.
Find out How to Speed Up Online Event Booking and save your department valuable time.
Finding the right venue management software
The right event and venue management software can help you streamline your operations, save time, do more with your budget and more. Unfortunately, the wrong venue management software can frustrate your team, cause problems for your customers and potentially do more harm than good.
With the following three-stage approach to venue management selection, you can make sure you find a solution that fits your organization and budget, and gets widely used by your team:
Analysis

: Determining your needs based on budget, timeline and more.

Evaluation

: Vetting software providers and finding goal and organization alignment.

Selection

: Choosing the right platform for maximum ROI, adoption and beyond.
Discover an expertly crafted approach to Finding the Right Venue Management Software and find your ideal venue management software provider.
Momentus Platform for venue and event management
The Momentus platform offers end-to-end venue and event management. Our cloud-based platform comes with fully-integrated accounting, reporting, event management, CRM and modern web portals.
Unlike other event and venue management software, the Momentus platform is truly end-to-end. Our software is broken down into five modules, each handling a different piece of events — all on one platform. Using these five modules, you can break down siloes, enable true holistic reporting and streamline all of your events processes.
CRM

Our CRM module is made up of integrated sales tools. These tools allow you to drive sales efficiency through several benefits:

Advanced sales and booking tools.

The ability to generate proposals, contracts and e-signatures.

Goal tracking from inquiry all the way to booking.

Contact management across all your accounts.

With the Momentus CRM module, you can avoid losing out on historical sales data because of disparate systems. The seamless integration of our CRM module makes it possible to track sales and event performance and make better-informed decisions moving forward.
Web Portals

The Momentus web portal makes it possible to streamline the event experience for your end users in a number of ways:

Empower users to quickly book spaces.

Streamline item and catering orders.

Automate event planning workflows.

The Momentus web portal allows you to take the friction out of booking, inventory and catering. This can not only save your team precious time, but also leave your users with a more positive impression of your brand.
Event Management

The Momentus event management module allows for real-time visibility and mobile event management. Deliver next level event management with:

Mobile apps for event management.

The ability to confirm work order delivery on the go.

Mobile inventory management with check-in/check-out functionality.

The Momentus event management module can help your team leave the big book and manual processes behind, allowing them to work on the move and keep up with the fast-paced world of modern events.
Accounting

With the Momentus accounting module, you can stay on top of resource planning, thanks to a number of tools:

Fully-integrated accounting software for event management.

A single database for all financial data.

Access to accounts payable, ledger, inventory and more.

A separate accounting program can keep you from holistic insights and create headaches for your team. The Momentus accounting module allows for truly seamless accounting across your event management functions.
Reports

In-depth reporting used to be a headache in events management. With the Momentus events module, it doesn't have to be.

Access analytics on event bookings, venue occupancy and more.

Create customized reports tailored to your organization.

Quickly find the data you need with real-time info and dashboards.

Events and the market can change on a dime. With the Momentus reporting module you can avoid getting caught off guard and deliver truly Momentus experiences time and time again.
The Momentus difference
Event and venue management software isn't new, with countless companies streamlining parts of venue management. While many of these providers deliver what they promise, only one of them delivers end-to-end venue and event management.
Momentus powers more than one-million events every year for customers spanning 57 countries around the world. Here's how we've made a Momentus impact on the events process for a few of our wonderful customers:
Convention Center: Jaarbeurs

Jaarbeurs' existing infrastructure was composed of several disparate systems working in silos across their various venues and international headquarters. That was creating operational bottlenecks across the organization – which in turn, hindered efficiency and kept the company from being as fully customer-centric as it wanted to be. Jaarbeurs wanted to fix this problem in a seamless manner, without impact on current operations, which required a turnkey solution that could provide quick timeto-value (TTV).

Momentus (formerly Ungerboeck) fit the bill. Momentus creates cohesive visibility across the organization and streamlines financial operations. It also eliminates manual processes and simplifies payment and invoicing, which frees up staff to focus on customer success. Beginning first with the exhibitions and venue module of Momentus platform and later adding the financial module, Jaarbeurs now uses nearly the full suite of offerings.
Corporate: Pier 57, Google

Hear from industry expert Anne Wheat, Event Operations General Manager at Google's event space Pier 57, as she explains the differences between event operations at a commercial venue vs. a corporate venue. She also shares which event management best practices she brought to the corporate environment and how corporate events are changing.
Arts & Culture: Live Nation Australia

Live Nation Australia was grappling with a mix of manual systems and spreadsheets that were time-intensive and led to internal roadblocks, increased human errors and miscommunications. They wanted a single event management solution that would create cohesion across all venues and departments, integrate with existing technologies and produce accurate reports to analyze key business metrics. Their internal operations needed modernization across all departments, but downtime wasn't an option, so the team needed a system that could be deployed without impacting day-to-day activities.

Live Nation chose Momentus. The intuitive platform acts as a single source of truth to centralize all event information across their business and standardize their event operations. Momentus even integrates with existing infrastructure to reduce the need for many of the manual processes which would improve staff productivity, simplify reporting, and ultimately help modernize the customer experience.
Higher Education: University of British Columbia

The University of British Columbia manages approximately 500 meetings and events and 18,000 individual room bookings per year at over 1,600 event spaces across the campus. When the relationship between UBC and Momentus Technologies (formerly Ungerboeck) began in 1997, UBC was looking for an event management system and CRM to manage room bookings, store client information and produce reports to streamline their event sales process.

Over the past 25 years, their events business has continued to grow, and they have adopted additional Momentus functionality to support their evolving business needs. From online inquiries to event registration, conference session proposals and online payments, each new piece of functionality has allowed the university to further streamline their event processes, while allowing them to expand revenue streams and deliver high-quality customer service to their internal and external clients.
Arena: Alerus Center

Alerus Center is located in Grand Forks, North Dakota. They hold around 400 events annually. Prior to Momentus, the Alerus Center sales team emailed clients a PDF of their booking contract. The client had to print and sign the contract, scan it, and then send it back to Alerus Center. After rescanning the contract, the internal team would repeat the process and rescan it for their client. Clearly, Alreus Center's process for signing and completing contracts was long and required too many steps.

Since implementing Momentus and the electronic signature integration with DocuSign, the Alerus Center Sales Team has become more efficient and can now sign contracts on the go. With the new ease of signing, they can turn contracts around more quickly and even generate automatic reminders for clients who still need to sign.
Conference Center: Ko Awatea Centre

The Ko Awatea Centre is Counties Manukau Health's (CM Health) centre for health system innovation and improvement. Before implementing Momentus, Ko Awatea Centre was using a legacy booking system with limited capabilities. As a result, the team relied heavily on manual processes, increasing the risk of booking conflicts and administration errors. The Centre was looking for a solution that would not only better support their internal staff but also provide a more sophisticated customer experience to their external stakeholders with enhanced self-service functionalities.

Ko Awatea Centre chose to implement the Momentus to streamline their space booking processes. The solution offers a range of customizable features, allowing the center to categorize their spaces by size, capacity, cost and more. Customers can easily filter spaces based on their requirements, check availability, provide event details, and make bookings in a click of a button.
Exhibition Organizer: The Southwater Event Group

Based in Telford, in the Midlands of the UK, the Southwater Event Group is comprised of the Telford International Centre offering 15,000m of event and conference spaces and hotels. Before the Southwater Event Group adopted Momentus in 2015, a lot of the existing event planning process was done across various systems. However, a change to the team's existing process created some uncertainty with the venue team, therefore gaining the trust of co-workers was a top priority at the beginning of the Momentus implementation process.

The Momentus Platform serves as a single source of truth for the Southwater Event Group, and the information is always accurate and up-to-date, enabling the team to easily create insightful reports. The organization has recently migrated to Momentus Cloud, and once again, a smooth implementation was at the forefront. Now, the Southwater team can streamline event management and even allow exhibitors manage their own orders.
Government and Council: City of Aschaffenburg

Aschaffenburg is a city in Bavaria, Germany, and it is a gateway to the Spessart Hills. The city hosts about 400 events every year — from exhibitions to cultural events such as concerts, comedy shows and theater performances. Aschaffenburg City Hall has been a customer of Momentus since 2004 and has digitized numerous venue and event management processes. However, the Congress and Tourism Services of Aschaffenburg was sharing all event data to its Technical department using an event log. Naturally, this process had its pitfalls as data was entered manually and summarized in a report that was provided to the Technical team in printed form.

The Momentus Platform replaced the printed event log altogether. Errors that previously occurred due to manual data entry were eliminated from the outset, and the team can now access current event data in the innovative app from the entire venue via cell phone or tablet.
Make your organization Momentus
Our end-to-end platform has helped countless organizations deliver memorable events to people around the world. Whether you're looking to streamline a portion of your events or everything possible, we can help with:
Online Space Booking and Management
Event Planning and Communications