June 6, 2023
How to Delight Exhibitors and Visitors: Best Practices for Convention Centers, Exhibitions and Trade Shows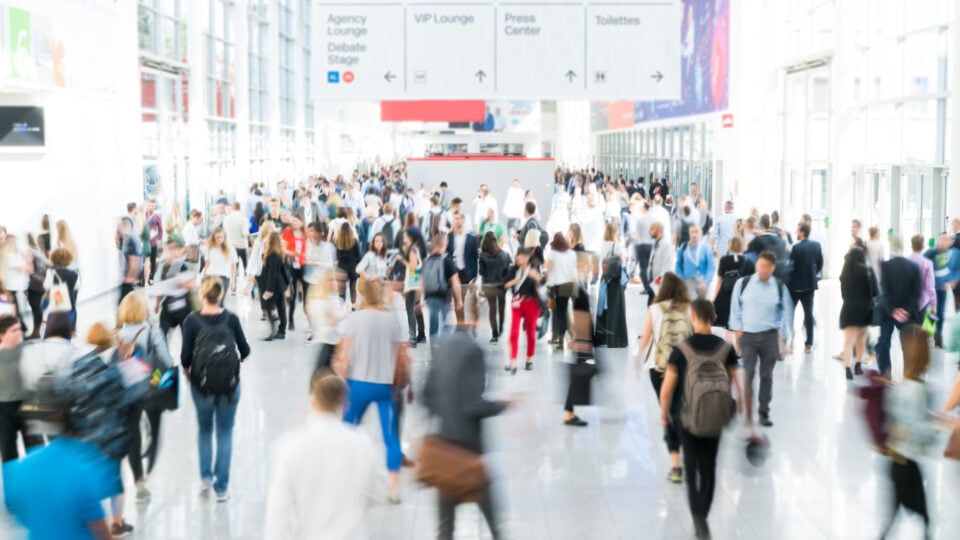 The success of any convention, exhibition or trade show is not only determined by the profit it generates but more importantly, by the feedback you receive from your exhibitors and visitors. Why? Because, by delighting exhibitors and visitors you encourage customer loyalty, repeat bookings and registrations, which reduces the cost of acquisition for future events.
For exhibitors and visitors, the event experience is not limited to the event itself. It starts at the time of booking and continues during and after the event. Here are some practical tips you can implement to delight exhibitors and visitors at every step of the event management process.
How to Delight Exhibitors and Visitors at Every Stage of an Event

Before the Event
Before any event, you want to make a successful start. It will be imperative to showcase your customer service and the ease of working with your organization.
1. For Exhibitors: Simplify the Planning Process with Self-Service Portals
Planning a booth or trade show stand at a convention or exhibition center can be challenging. From booking the space to designing the layout, arranging audio-visual and power, ordering collateral and more, there are many elements and deadlines to stay on top of, which can quickly become overwhelming. Leading convention and exhibition centers simplify the planning process for exhibitors, allowing them to register, prepare and manage their own event details via self-service booking portals. These portals empower exhibitors to manage their event bookings at their own pace.
2. For Visitors: Streamline the Event Registration Process
Leading convention and exhibition centers make it easy for prospective visitors to register their attendance and make payments online with interactive registration platforms. Online registration will accelerate your check-in processes and easily reconcile payments. Plus, you can track registration in real-time so you can accurately forecast upcoming events and there is no need for involvement from staff, which saves time and money.
During the Event
There are a variety of ways that you can improve the event experience for both exhibitors and visitors during the event.
1. Wayfinding Tools and Accessibility: Place digital, interactive information kiosks and billboards at entrances, exits and elevators so people can find their own way around the venue and highlight key messages and live event updates. In addition, you can offer downloadable maps, vendor guides and marketing collateral using QR codes to provide further information to exhibitors and visitors during the event. It is also essential that event organizers prioritize the comfort and safety of all exhibitors and visitors. From accessible access points to incorporating sign language interpreters and providing appropriate sensory considerations, there are so many things that convention and exhibition centers can do to make their events more inclusive and accessible.
2. Effective Risk Management Protocols: It is crucial that all exhibitors and visitors are safe at events and that help is available when an issue arises.
Execute a thorough risk assessment prior to the event and implement a detailed risk management plan.
Notify all exhibitors of site safety rules (i.e., rigging, load bearing, vehicle movements, power requirements, master arrivals schedule, plant and equipment, high visibility clothing, etc.).
Ensure all designs for high-risk structures, activities and rigging are provided to the venue or event organizer to review and approve before the event.
Review event floor plans and outline strategies for safe evacuation.
Confirm ample staff are present during event load-in/load-out to assist exhibitors.
Monitor work activities during load-in and load-out to monitor and identify high-risk work areas.
Make certain you have relevant skilled/trained staff onsite during the event (i.e., first aid, fire marshals, etc.).
Provide safety and emergency briefings to key staff and stakeholders before the event and ensure a record is retained of all briefings.
Give staff and relevant stakeholders the tools to document and track incidents when they occur.
3. Sustainable Event Practices: Exhibitors and visitors are becoming increasingly aware of the impact that live events are having on the environment. It is vital that you allow them to actively participate in reducing carbon emissions at events by introducing options like:
Plant-based menu choices.
Offer exhibitors local upcycle options or encourage existing exhibit booth/stands re-use.
Recycling stations/bins.
Water bottle refill stations.
Biodegradable or reusable options in place of single-use plastics.
4. Prioritize the Experience: Exhibitors and visitors have come to expect a memorable, first-class experience as they determine an event's success. I can distinctly recall events, locations and venues that delivered just that, and I still tell others about that event experience. The commitment to delivering a first-class experience for your exhibitors and visitors must be fundamental to your venue and your brand. Some of the primary factors that impact event experiences include:
Service: When venue staff and event organizers offer a level of service to both visitors and exhibitors that makes them feel welcomed and valued, it plays an important role in the overall event experience. All staff should be equipped with the tools needed to deliver a memorable event experience and briefed as to the event's "personality," goals and priorities.
Food and Beverage: For many exhibitors and visitors, your food and beverage offerings provide a glimpse into your city and neighborhood. It is a prime opportunity to provide a "gastric tour" as local farm-to-table options and local produce intertwine with personal preference and dietary preferences. Showcase quality and culinary expertise through the food and drinks served, while also supporting sustainable practices.
Venue Amenities: As creatures of comfort, the amenities offered at the venue also impact the event experience. Consider these elements and ensure that they provide a positive experience (i.e., seating, lighting, air conditioning, charging stations, water stations etc.).
Connections: The primary purpose of live events is bringing people together, which is exactly what convention and exhibition centers are designed for. Successful events, by design, allow exhibitors and visitors to connect. Arrange pre-networking events, provide ample spaces in your floor plan for impromptu meetings, and offer social networking opportunities on event apps.

After the Event
Following any event, you must assess the success and determine strategies for improvement so that you can continue to delight visitors and exhibitors at future events.
1. Collect the data: Gather all the relevant metrics that can be used to measure the success of the event.
Sales reports/statistics from booth/stand sales.
Visitor registration statistics.
Attendance tracking statistics.
Feedback forms from exhibitors and visitors.
Visitor streams.
Break out request and responses.
Content inquiries.
Time of visitor spent at booth and/or pavilion.
Quality of leads.
Quantity of leads.
2. Measure the results: Once all relevant data is gathered, analyze it and convert it into meaningful metrics. These meaningful metrics become the benchmark for determining the success of the event.
Compare data with past events.
Evaluate data with previous years.
Analyze the total value of sales.
Produce a profit and loss analysis.
Generate detailed demographic results/personas for visitors that attended the event.
Identify common feedback from exhibitors and visitors, including complaints, positive comments and suggestions for improvement.
3. Report on your findings and share with relevant stakeholders: Maintain a pulse on the success and opportunities for each event. If it is repeat business, compare this to earlier events. And be sure to share this data with the multiple stakeholders, such as your exhibitors and visitors, senior management, event organizers, suppliers, contractors and your local CVB or Tourism Bureau. Your success impacts your entire community.
4. Identify strategies for improvement: The final step is to work with your key stakeholders and implement strategies to improve future events for your exhibitors and visitors.
Transform Your Exhibitor and Visitor Experiences with Purpose-built Solutions

Learn more about Momentus Technologies' end-to-end software for convention and exhibition centers to streamline the complexities of managing your large-scale venue. We can help improve your workflows, maximize profits and provide exceptional event experiences to exhibitors and visitors.