October 25, 2023
25 College Event Ideas to Drive Engagement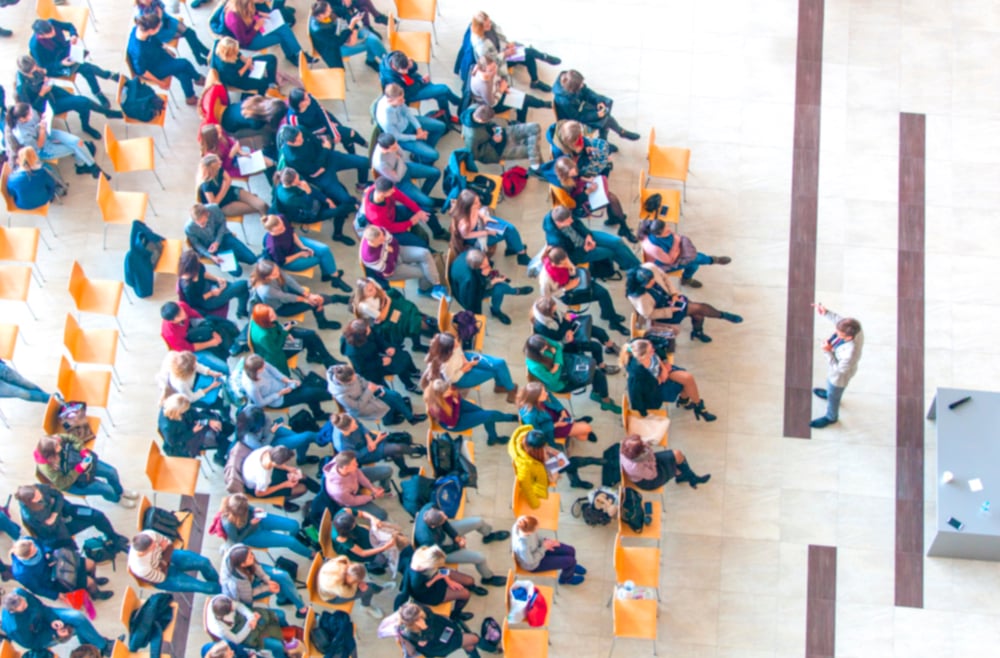 A higher education institution's brand plays a crucial role in attracting incoming students and improving endowment. When thinking of ways to develop and maintain a distinctive brand identity, hosting more campus events in empty or underutilized meeting spaces is a great strategy.
A recent University Business article noted in-person event attendance has risen by 38%, illustrating students are ready to engage face to face.
"One of the aspects of post-COVID life is we realize that delivering knowledge through a laptop screen fell short of what we expect from an educational experience, especially for undergrads, where so much of it is the socialization, the give and take, the relationship, building — all of it," said University of St. Thomas President Rob Vischer in an interview with University Business. "We have to help our students develop, not just into great productive employees, but into thoughtful, conscientious, other-centered persons."
Before sharing a list of various higher education event ideas, let's explore the benefits of hosting more college events on your campus.
Benefits of running college events
There are countless college event ideas out there, so naturally their benefits vary. Some are geared toward student recruitment, while others are focused on community building. Generally speaking, there are several main benefits to hosting college events:
College events get students engaged with your campus and the community.
Events help promote your campus to both prospective students and those looking for event spaces. If your event draws a lot of attention and shows off the campus and town, you could catch the attention of those looking for future event locations.
College events bring positive awareness to your school, showing off your culture, the people and more.
College events can even help drive revenue to your campus.
25 college event ideas
Some college event ideas are better suited to certain times of year, while others may vary depending on the size of your campus, the surrounding area and so on. As you look over these college event ideas, take note of which ones seem like the best fit and lowest lift for your organization.
Job fair
Most students are attending college in hopes of launching a great career afterward. Help your students get started on the right foot and host a job fair. Go beyond local businesses and invite ones outside your area as well.
A job fair is more appealing to students nearing graduation. Increase the appeal by inviting companies offering internships or looking for apprenticeships, as these opportunities can help students one or two years away from graduating get firsthand experience.
A job fair can result in direct revenue, as it's not uncommon to charge companies for a booth.
Science fair
Take your students back to their earlier school years by hosting a science fair. Use a large, available space, like an auditorium or gymnasium. Then, give students as much notice as possible so they can do the best job possible on their projects.
This isn't typically a revenue-generating event, but can help drive positive awareness to your campus. However, you could potentially charge recruiters from engineering and science-based companies to attend. This can make the event more enticing for students as well.
Voter registration day
Younger generations, while increasingly active in elections, historically vote less than older generations. Host a voter registration day and offer assistance for students looking to get registered.
This isn't a revenue-generating college event idea, but it can paint your university in a positive light and help younger generations get more involved.
Campus-wide scavenger hunt
Scavenger hunts are a classic college event idea. They're cheap, fun and they get people involved and engaged with your campus.
Put together a series of clues and send your students all over campus. If possible, see if any local businesses want to sponsor the event and provide food, as this is a great way for them to promote their business.
A scavenger hunt isn't a money maker, but it's a cheap and easy way to help your students get to know their campus, network and have fun.
Free concert
Historically, concerts aren't a cheap event to put together. But, if your college has an auditorium, you likely already have everything you need to put on a fun concert for your students.
See if any local artists are willing to put on a free concert. If you're having trouble finding one, try getting a headcount for the free concert ahead of time via registration. This can make the event more enticing, as the artist will see just how much exposure they can get.
As far as revenue, this event can go either way. You can keep things entirely free and see if any businesses are willing to sponsor and provide food and drinks. Or, you can set up a paid concession stand, while keeping the concert itself free.
Guest speaker events
Similar to a concert, a guest speaker event is another great way to draw a crowd to your campus. Start by securing a guest speaker, such as a celebrity or even a number of alumni.
Set a topic for the event or have the speaker(s) provide a topic as soon as possible, allowing time for any back and forth. Once both parties are happy, promote the event around campus.
Like a concert, this one can go either way with revenue. You can keep things free and see if anyone wants to sponsor the event and provide concessions. Or, you can offer free admission to students and charge ticket prices for those outside the university, allowing you to leave a good impression on your students while driving revenue.
Film showing
Who doesn't love a free movie? If the weather permits, host a free movie screening outside. If it's rainy or cold, use your school's auditorium. In either event, choose a movie (bonus points if you pick one that fits a theme, like something spooky for Halloween), promote the event around campus and draw in a crowd.
This is such a cheap event to put together, that it's best served as a non-revenue generating event. But, you do have the option of selling popcorn and other concessions if you're looking to drive some revenue.
Spirit week
Homecoming is a big deal for campuses everywhere. Make sure it's celebrated to the fullest and organize a series of spirit week events. These can be events pulled from this list, or as small as having students wear fun hats one day, pajamas one day and so on.
Spirit week isn't a big revenue generator, but it's a fun and easy way to build school spirit, make a splash on social media and get more attention on your school.
Trivia night
Trivia nights are always a hit. Choose a spot on campus, inside or out, get someone to emcee the event and set up any necessary seating arrangements. You can go for a particular theme, like school history, or focus on all subjects.
You can opt for making this event free, or you can sell cheap tickets for those who wish to compete.
Boardgame night
Boardgame night is similar to trivia night, only you're providing numerous classic boardgames for students to play. Provide a number of popular games, set up tables, and give people a fun atmosphere to play in.
Consider having a tournament option for those who wish to participate, with a prize for the top players. You can even charge a small fee for those wishing to enter the tournament, which can help cover the cost of any snacks you provide or even generate some revenue from the event.
Gaming marathon
Host a 24-hour gaming marathon. Participants can play videogames, boardgames, and anything else you can get together. Consider streaming the event live on Twitch, YouTube or your college website and allow for donations that way as well.
You can also convert the event into a charity one, streaming a 24/7 gaming session with an option for people to donate to a particular cause.
Campus Olympics
Campus Olympics are a perfect college event idea for the warmer months. Put together a series of classic Olympic games, with medals or trophies of some sort for the top contestants in each category.
The bigger this event, the better. This isn't a revenue-generating opportunity, but an excellent way to build school spirit and really showcase what your campus is all about. So, the bigger, the better.
Spring cleaning
It's not uncommon for dorms and college apartments to be a mess by the end of the school year. Help students prep for moveout in the summer by hosting a Spring cleaning event.
Ensure all major dorms and campus apartments have dumpsters available and encourage students to do some Spring cleaning and share pictures of their success on social media.
This college event idea isn't one to bring in revenue, but is a fun way to help students prep for moving out while generating social media buzz for your campus.
Clothing drive
A clothing drive is the perfect complementary event for Spring cleaning. Host a clothing drive in parallel with the Spring cleaning event and organize drop-off locations for clothing. Then, encourage students to take their unwanted clothing to these spots in support of a good cause.
Food drive
Host a food drive/can drive, giving your students the chance to give back. Set up various drop-off locations around campus and promote the event on your school website, in the school paper etc.
This college event idea isn't about generating income, but teaching your students the value of giving back and helping with your college's reputation.
Blood drive
Blood drives are another way for your campus to give back and support the greater good. Partner with local blood banks and host an on-campus blood drive. When promoting the event, include education around the importance of donating blood and what impact it has.
Consider spending money to create shirts for those who choose to donate, as this can further incentivize students to donate.
Neighborhood cleanup
Promote and organize a neighborhood cleanup for various parts of town. Students can group up and go to different neighborhoods, picking up any litter they find.
This is an affordable, easy way for your students to give back while also getting a chance to socialize and engage. This isn't typically a revenue-generating college event idea, but there's always the opportunity of getting local businesses to sponsor the event. Like other charity events, it can be worth the cost of ordering shirts for the event to help with attendance.
Charity run
Organize a charity run for a group or cause of your choosing. Consider hosting an online vote for students to choose a group, or pick one that makes sense given your campus and community.
Reach out to local businesses and try to get sponsors for the event, seeing if any can help cover promotion of the run, shirts and so on. Bonus points if you can get any businesses to donate to the charity or agree to match donations raised by students.
Charity auction
Host a charity auction, where students can donate and bid on items. Find a local charity or cause to support and donate all proceeds from the auction.
If possible, see if any local businesses want to pitch in items, coupons, dinners etc. as items to auction off.
Bake sale
Choose a location on campus where students can donate baked goods to sell in support of a charity or cause. Make sure students clearly label ingredients that go into the baked goods.
If you want to go above and beyond, turn the baked sale into a competition and allow participants to enter into a contest. Choose a panel of judges who will then award a prize to the top 1-3 contestants.
Raffle
A raffle is a versatile event that's easy to set up and ideal for charity or raising funds for further events. Simply raffle off a big-ticket item or a number of smaller items and collect funds for a good cause or other events.
Ask around and see if any businesses want to donate items for the raffle, otherwise one of the only expenses for this event is acquiring the item or items for the raffle.
Outdoor painting class
Have one of your school's art instructors, if possible, lead an outdoor painting class. If an art instructor isn't available, contact local art groups and see if an instructor is willing to lead the class.
This event can either be free or have a small admission fee. If you have to pay an instructor to teach the class, charging admission for the event can offset the costs and potentially drive revenue. Otherwise, treat this event as a way to engage students and build culture at your campus.
Outdoor yoga
Similar to outdoor painting, see if you have a campus instructor willing to lead an outdoor yoga session. If not, look for a local instructor.
Again, this event can be free or have an admission fee attached. If an instructor is willing to lead the session for free, consider making this event free and use it as a chance to get students engaged with one another.
Financial education day
Have a professor or local specialist teach students about taxes, retirement funds, different types of bank accounts etc. Ideally, this event should be free, as it's a great chance to educate students and set them up for success as they enter the workforce.
Themed prom night
Choose a theme (certain decade, school spirit, etc.) and host a prom with live music, food and beverages. Use a spot on campus that's large enough to accommodate a crowd and available, like the gymnasium or student union hall.
You can sell tickets in advance to determine headcount, ensure expenses are covered and make the event profitable.
Finding more time for college events
Planning college events takes time and resources. With the right higher education event management software you can make better use of the team you have and find the time to tackle college event ideas with ease.
The Momentus Platform provides end-to-end venue and event management for higher education organizations, from meeting room management to student event portals to campus-wide space utilization insights and beyond.
Learn how Momentus can help you spend more time on college event ideas, and less time on the busy work. Read our in-depth guide on modernizing event management for higher education today.