October 18, 2023
Venue and Event Management Software Terminology 101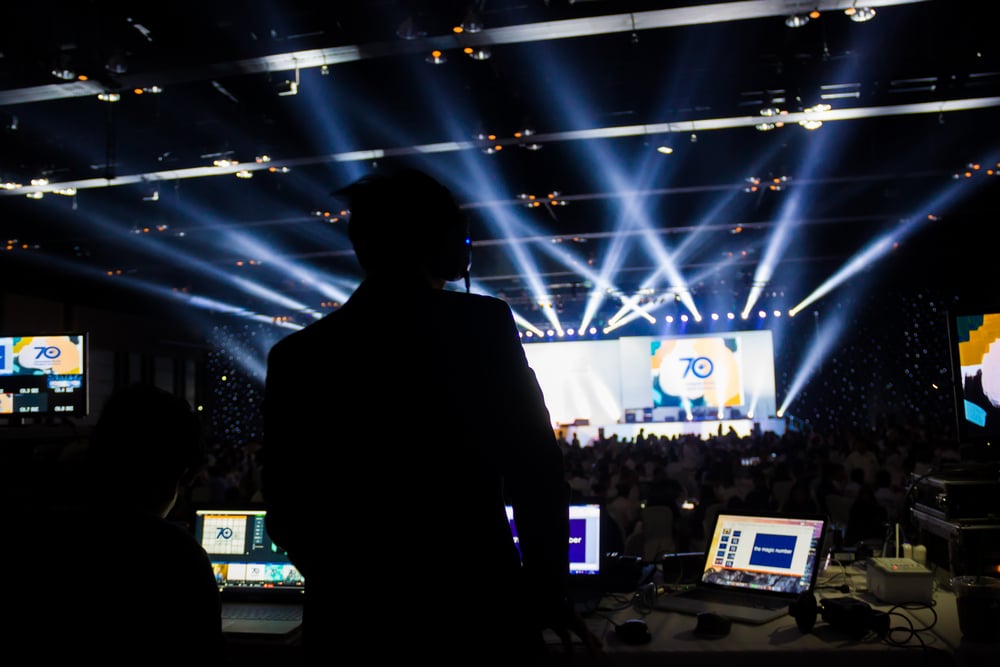 Venue and event management software plays a pivotal role in streamlining operations and ensuring the success of your events. With the right software, you can optimize your venue's utilization and minimize double bookings, ensuring a seamless experience for your organization and your attendees. Some solutions allow you to track and manage your event finances, making it easier to stay within budget and maximize profitability. Some can help you dive into the analytics of your events in order to make informed data-driven decisions to help improve your event strategy. And some solutions do it all.
But venue and event management software terminology can be confusing, even for the seasoned events professional. If you are tasked with narrowing down a venue and event management software for your organization, it's important that you know what to search for to find a solution that meets your business needs quickly and easily.
To help you identify a suitable system, we've compiled a comprehensive list of some of the most used jargon relevant to venues, events and software so that you can familiarize yourself with event-specific lingo and technical software terms.
Common Venue and Event Management Terms:
Audio Visual (AV): The lighting, screens, speakers and other technical equipment used to support the sound and visual presentations at an event.
Back of House (BOH): Any space that customers/attendees typically do not see at an event, e.g., kitchen, green room, break rooms, office spaces, etc.
Banquet Event Order (BEO)/Event Order (Event Order)/Run Sheet: A system-generated document, listing all the requirements and logistics for the complete event, start to finish.
Big Book: Before the event technology surge, the industry relied on a physical book that served as the master source of all information for an event. The big book contained all holds, function details, catering orders and more, written down in pencil. The Sales team was responsible for ownership of the book, rotating responsibilities for calls, updates and acting as the point person to coordinate "the book."
Breakout Rooms: Smaller rooms and event spaces used by attendees for meetings and networking sessions outside main/plenary sessions at conferences and events.
Boardroom: A physical meeting space that contains a single large table that is not movable. The boardroom is typically suitable for small and medium-sized meetings.
Certified Meeting Professional or Certified Meeting Planner (CMP): An individual who holds an industry-specific accreditation from the Events Industry Council.
Chevron/Theatre Style Seating: Chairs set up in rows facing the stage. The configuration style of chairs and tables for a particular event or function.
Classroom/Schoolroom Style Seating: Tables and chairs set up in rows facing a particular area in the room. This setup makes it easy for the audience to take notes.
Covers/PAX: The number of attendees at an event.
Request for Proposal (RFP)/Request for Quotation (RFQ) / Request for Information (RFI): A request from a prospect or client outlining the requirements for their event or venue booking, including but not limited to the catering, inventory, audio-visual and other elements needed for their event. In this instance, the venue must reply with a formal proposal/quotation outlining how they can meet the client's needs.
Room Dividers/Airwalls: The partition system used to split up larger rooms into smaller spaces.
Room Diagram/Room Layout/Seating Plans: The configuration of the venue's tables and chairs relevant for the event type.
Set-up Time/Load-In/Bump-In: The time required to prepare the room or hall for an event. During this time, no other event can be booked for that space.
U-shape/Horseshoe Style Seating: Tables are set up in a U-shape with chairs on the outside, facing the internal empty space.
Software Terms:
Add-On Module: Additional functionality that can be added to the core system to expand its capabilities.
Application Programming Interface (API): An interface that allows you to seamlessly synchronize information across different applications/systems/software that were not explicitly designed to work together.
Cloud: Cloud computing is a software delivery model in which resources and data can be accessed on-demand via the Internet. The term "cloud" demonstrates that information is readily available anytime and anywhere, and users do not need to be in a specific location to access it.
Enterprise-grade: Software that is scalable and that can support a large number of users.
Integration: In terms of software, integration is a process of merging two or more systems using a single or bi-directional sync so that data/functionality flows freely between them.
Multi-tenant: A single instance of the software that supports multiple tenants. All tenants share a single database, but each tenant is isolated, so they are invisible to each other.
Software-as-a-Service (SaaS): Sometimes referred to as "on-demand," SaaS is a licensing and delivery model in which software is delivered over the internet on a subscription basis.
Sandbox: Duplicate environment of the software platform for training and testing new functionality.
Technology Ecosystem (Tech Ecosystem): The collection of technologies that a certain company uses to run its business and, more specifically, how these solutions connect with each other.
Technology Stack (Tech Stack): The collection of technologies that a certain company uses to run its business.
Tenant: A tenant is a group of users who share common access with specific privileges to the software instance.
User Interface: The point at which the user and the software/system interact.
Common Venue, Event and Software Acronyms:
Accommodation (ACM)
Arrivals and Departures (AAD)
Back of House (BOH)
Broadcast (BRD)
Broadcast Compound (BCC)
Bump In Bump Out (BIBO)
Catering (CAT)
Catering, Cleaning & Waste (CCW)
Ceremonies & Torch Integration (CER)
City Steering Group (CSG)
Commercial Partner Program (XPP)
Communications (COM)
Community Engagement (CEG)
Computer Aided Drawing (CAD)
CRM, Digital & Social (CDS)
Customer Relationship Management (CRM)
Days To Go (DTG)
Delegation Registration Meeting (DRM)
Digital (DIG)
Event Mapping Tool (EMT)
Event Services (EVS)
Functional Areas (FAs)
Field of Play (FoP)
Front of House (FOH)
Furniture, Fittings & Equipment (FFE)
Green Guide Stipulations (GGS)
Host Compliance & Operations (HCO)
Hospitality Operations (HOP)
International Broadcast Centre (IBC)
Intelligence (INT)
Internationally Protected Person (IPP)
Invitation to Tender (ITT)
Key Performance Indicators (KPIs)
Local Organizing Committee (LOC)
Logistics (LOG)
Main Logistics Center (MLC)
Main Operations Center (MOC)
Main Press Center (MPC)
Material Screening Facility (MFS)
Master Delivery Schedule (MDS)
Media (MDA)
Media Hotel (MDH)
Medical (MED)
Months To Go (MTG)
Operational Readiness (ORS)
Overlay & Utilities (OVL)
Park & Ride (PAR)
Park Operations Center (POC)
Program Management Office (PMO)
Program / Operational Readiness (POR)
Program Progress Meetings (PPM)
Procurement (PRO)
Protocol (PRT)
Results Technology Services (RTS)
Rights Holding Broadcaster (RHB)
Rights Protection Program (RPP)
Safety (SAF)
Security (SEC)
Spectator Experience (SPS)
Spectator Services (SPS)
Spectator Transport Depot (STD)
Sports Presentation (SPN)
Sustainability (SUS)
Team Liaison Officer (TLO)
Ticketing (TIC)
Tournament Central Hub (TCH)
Tournament Information System (TIS)
Training Venues (TRV)
Transport (TRA)
Transport Coordination Center (TCC)
Travel Demand Management (TDM)
Uniform (UNI)
Uniform & Accreditation Center (UAC)
Venue Accreditation Centre (VAC)
Venue General Manager (VGM)
Venue Hire Agreement (VHA)
Venue Management (VMA)
Venue Media Center (VMC)
Venue Media Manager (VMM)
Venue Operations (VOP)
Venue Planning Meetings (VPM)
Venue Planning Process (VPP)
Venue Security Manager (VSM)
Venue Technology Services (VTS)
Venue Usage Agreement (VUA)
Very Important Person (VIP)
Volunteers (VOL)
Work in Progress (WIP)
Workforce (WKF)
Zone Operations Centre (ZOC)
Looking for a Purpose-built Venue and Event Management Solution?
At Momentus, we have more than 35 years of experience delivering industry-leading venue and event management solutions for organizations of all shapes and sizes. Contact us today to discover how our platform can help you deliver exceptional experiences that keep your attendees coming back for more.